Our New Shape Cutting Machine Is Here!!
Posted on November 4, 2019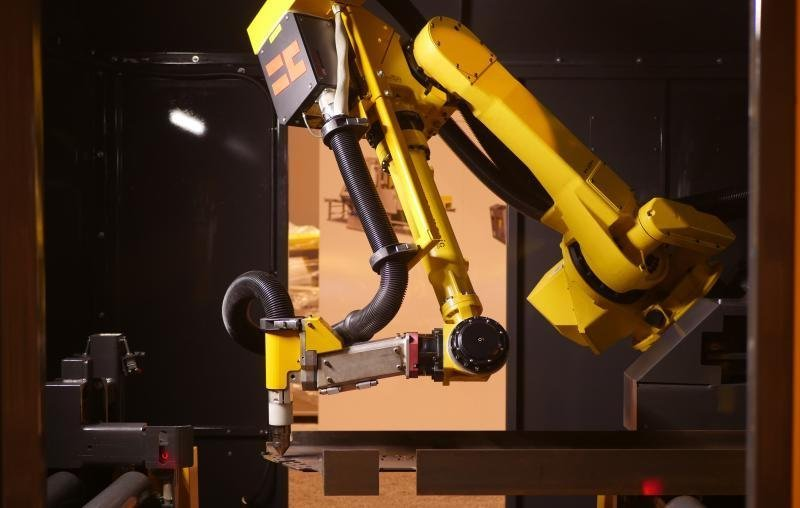 Steel America is proud to be installing the shipyard's first automated production robot. The BeamCut plasma cutting system will be located north of building 7 and has a boasting overall length of 143′-6″. The BeamCut system will also be sporting a50Kg 6-axis Fanuc robotic arm with a Hypertherm XPR300 amp plasma cutting tip. Some additional highlighted features include: a laser profiler, part etching / marking, trajectory software, sealed smoke and dust collection system, 4 network accessible cameras, and a laser guided linear measuring device. Able to cut steel, stainless steel and aluminum, some of the main shapes that this automated robot will be processing includes: H-beams; I-beams; T-beams; U-channels; flat bars; pipes; bulb flats; angles; square tubing; rectangular tubing and steel grating.
What does that mean for Steel America and its customers?…
CNC precision is going to be a vital part of the future of metal fabrication. BeamCut replaces the traditional need for angle lines, beam drill lines, bandsawing, hydraulic punches, iron workers and coping machines. With the integrated cross transfer infeed and outfeed conveyor systems, BeamCut creates a platform for increased output of beams and other metal shapes by reducing material handling time. With this type of system in place Steel America should see somewhere between 4,000 to 7,000 tons of increased steel processing annually. Not to mention new possible markets that have not been explored yet.
We are lucky to be involved with moving toward the future with this type of system coming underway. This is all possible because of the current team of skilled welders and fabricators that Steel America has to assemble structures. I wish everyone to take notice of the direction that Steel America is headed in securing a faster and more accurate automation of steel products and services across the nation for our customers.
To Infinity and Beyond!
Steel America was contracted by Virginia commercial space flight authority in partnership with M.A.R.S. ( Mid Atlantic Regional spaceport ) And Rocket Lab New Zealand to build and install an articulated rocket launch mount at NASA's Wallops Flight Facility. This was the second large project we completed for
This project was very demanding on schedule, quality requirements with very tight tolerances to 1 mm and integrated systems installation of hydraulics, fuel, CO2, Liquid oxygen, electrical and Water deluge systems among others. When complete, the articulated assemblies will rotate 90 degrees from vertical to horizontal in order to clamp on to the rocket, stand it up vertical and release hydraulically during launch operations.
Steel America fabricated 5 separate assemblies in Building #7, and then partially assembled as much as weight would allow for transport to the launch pad on the eastern shore of Va.
We then loaded the launcher onto a crane barge for transport to Cape Charles where it was offloaded onto a heavy haul transporter for the final leg of its journey to Wallops Flight facility for installation on the launch pad.
We are heading back to Wallops in October to erect the main vertical beam and complete the final assembly of LC-2.
The first rocket is scheduled for liftoff sometime in early 2020.
Bruce Henard, Project Manager. Steel America.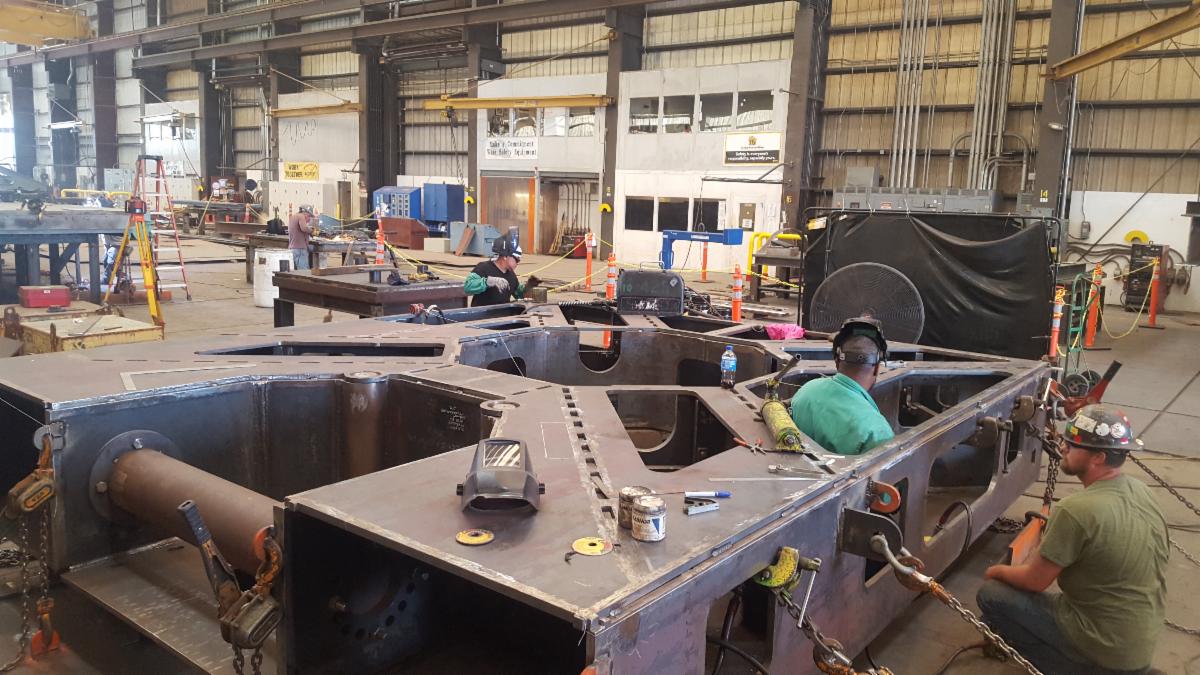 Fabrication of the launch mount assemblies.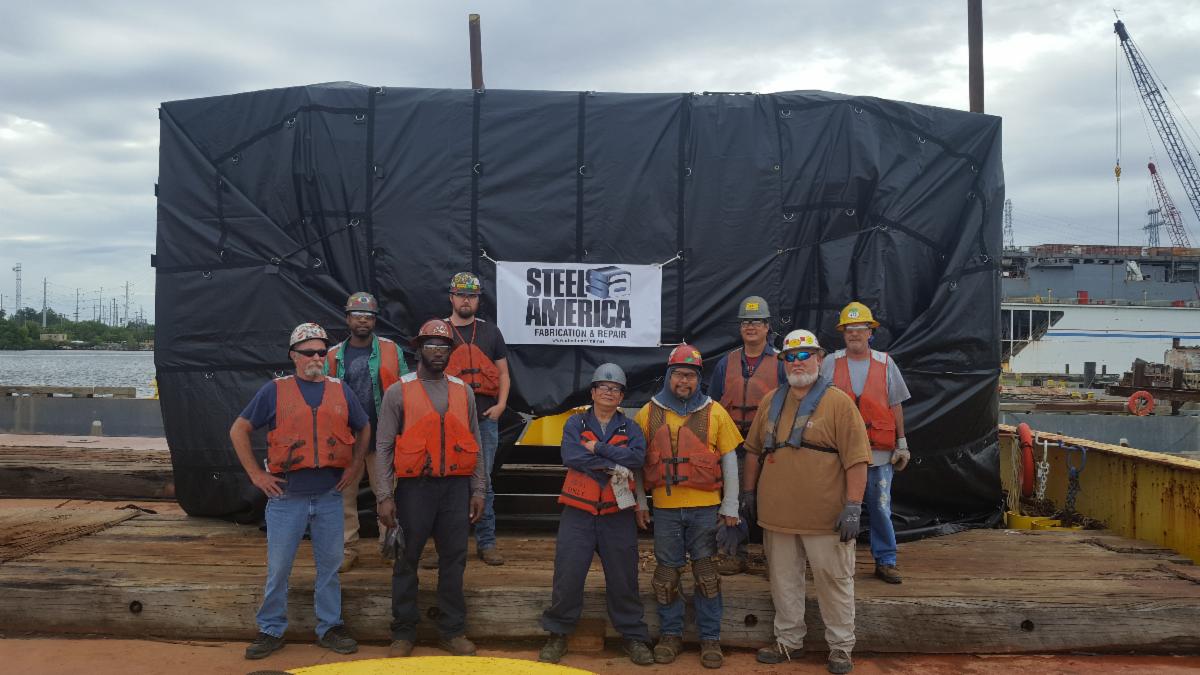 Steel America team barging the launch mount for delivery.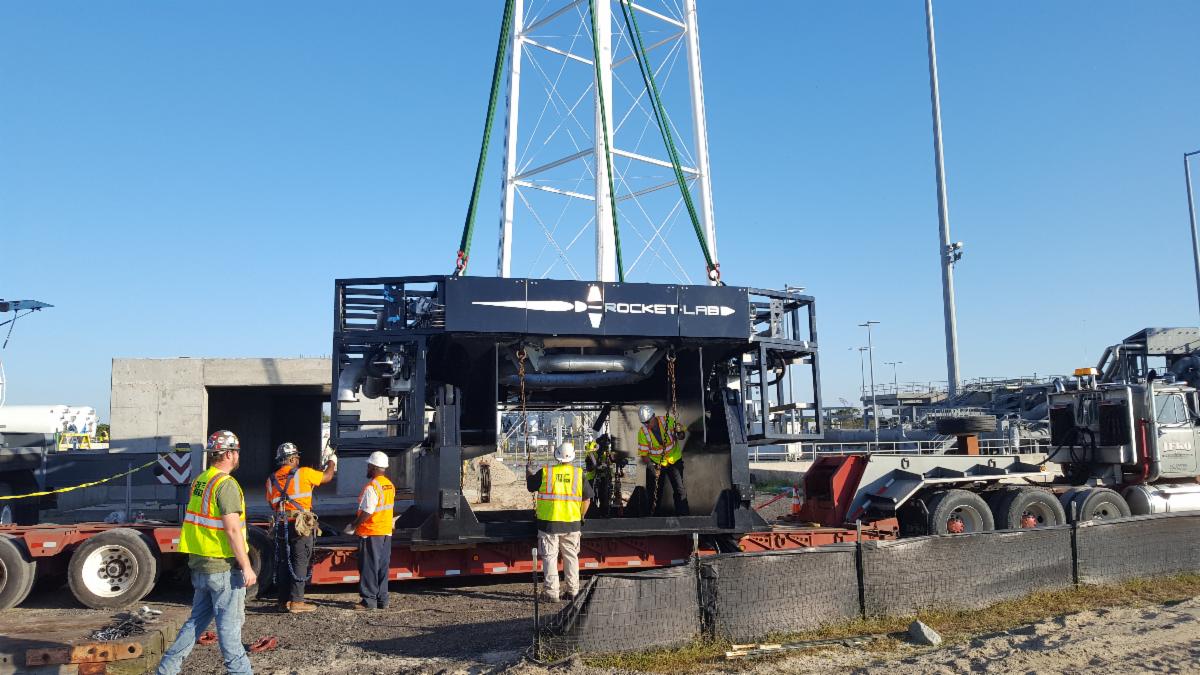 Launch mount being installed on launch pad.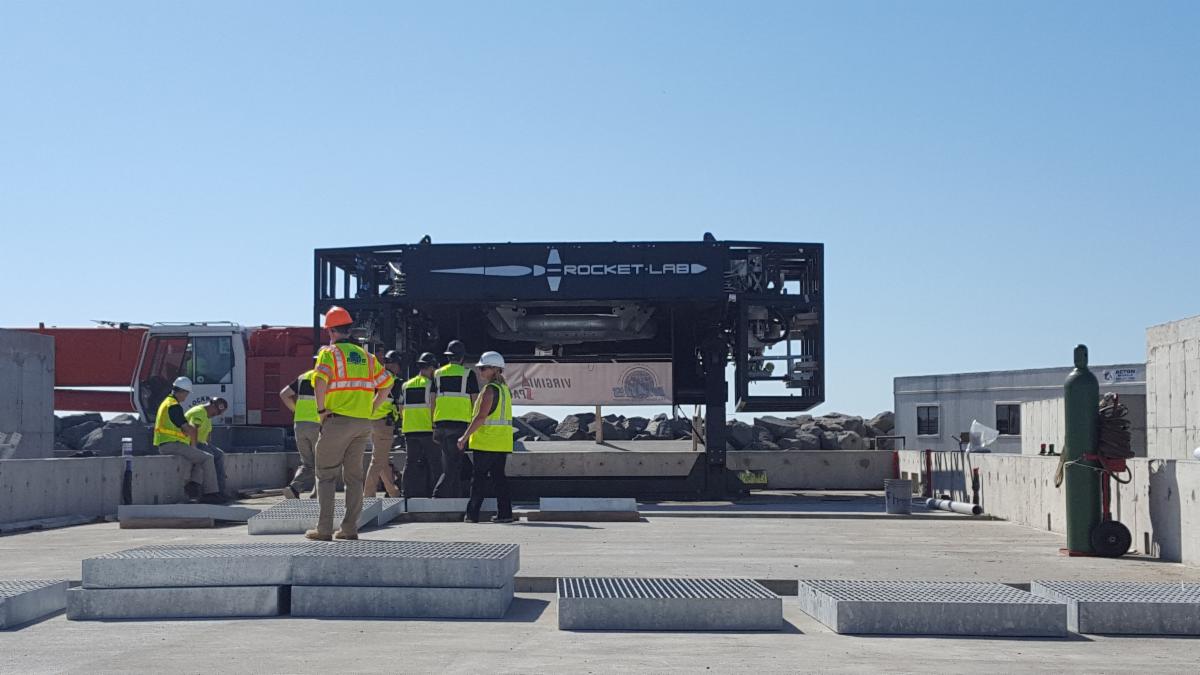 Launch mount installed on launch pad.
Check out the delivery and installation of the launch mount here!
Shipping Out…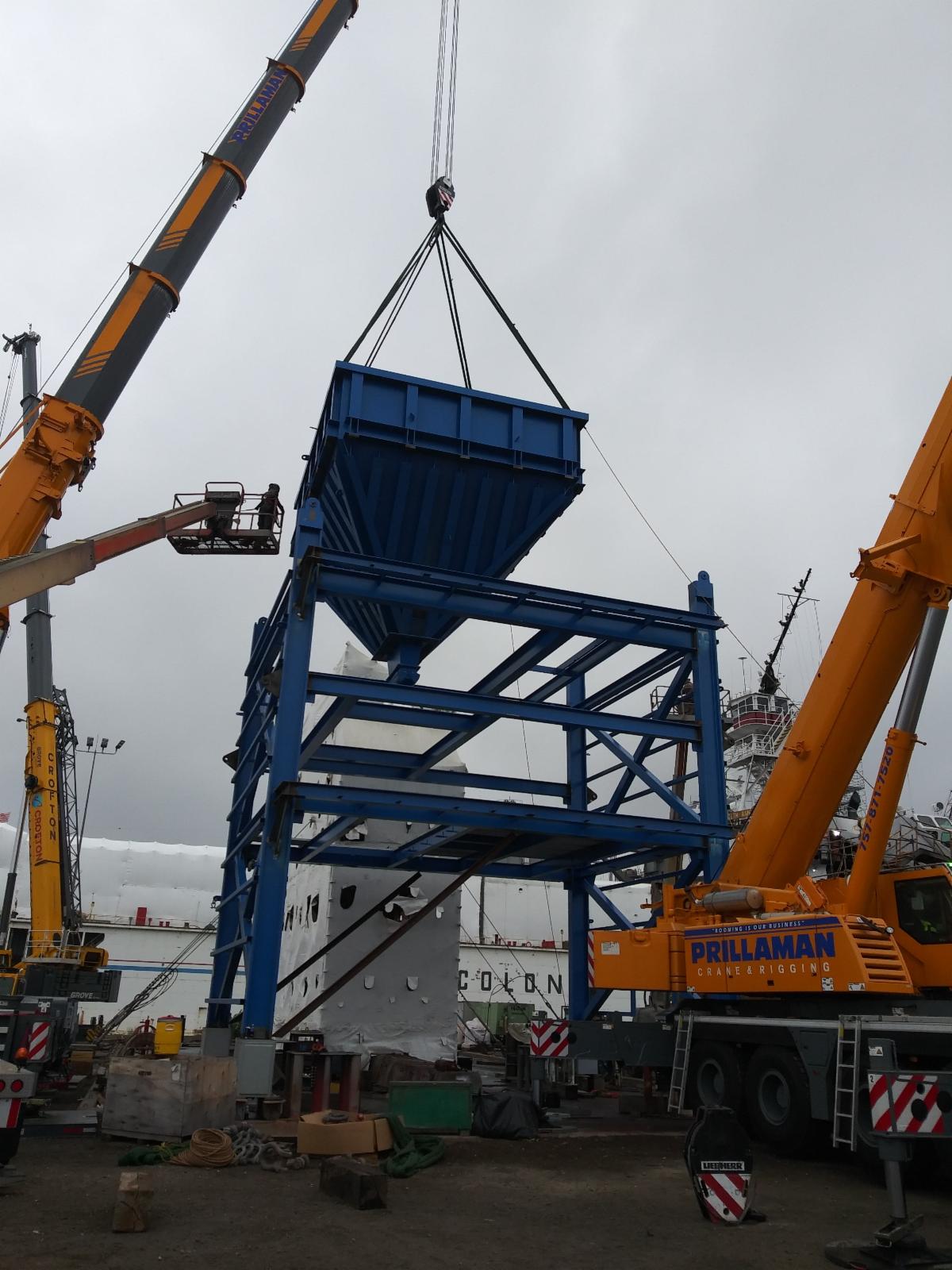 Steel America was contracted to fabricate and deliver a rail hopper and platform for North Carolina Ports Authority. The hopper itself is designed to load grain, corn, and sand from ship-to-shore crane, to rail cars. Designed load capacity of the hopper is 76 cubic yards, for a total potential weight load of approximately 260,000 pounds. The platform itself occupies a footprint of 32 by 24 feet, and stands nearly 40 feet tall. When completed, the platform, with its hopper and outfitting, will weigh approximately 190,000 pounds, and will be delivered to Morehead City by way of barge.
In The Fabrication Shop…
Steel America was contracted by a customer to fabricate and assemble the Aft Hemi Head Fixture for the new Columbia Class Submarine. The Aft Hemi Head fixture will be used by the customer to construct one of the main pressure hull assemblies. The fixture consisted of five separate assemblies that would join during the build and had an approximate weight of 103,578 pounds (51.7 tons).
In the Machine Shop…..
To schedule a tour of our facility please send an email to awilliams@steelamerica.net or call 757-545-5311 x3650.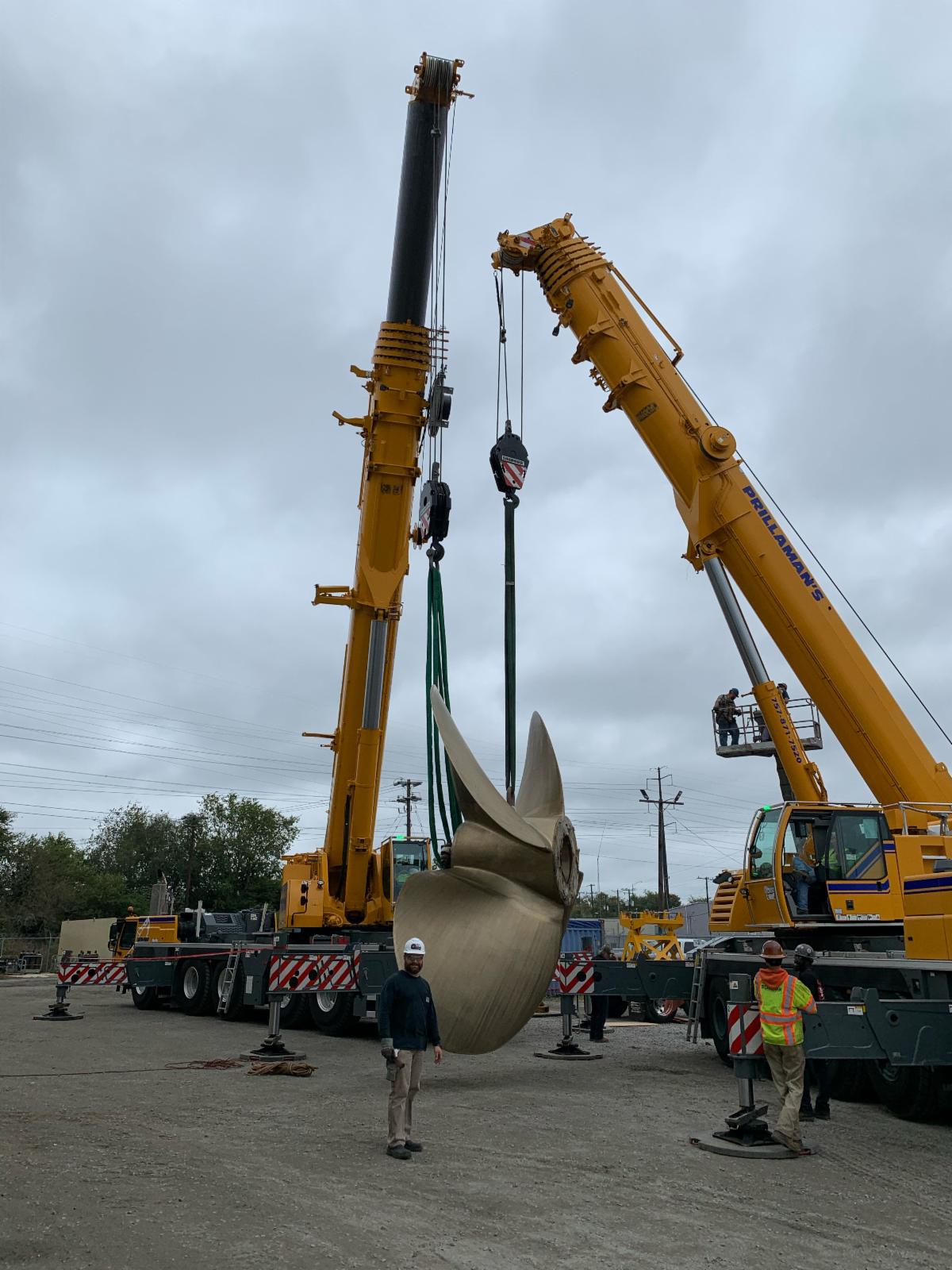 Propellor Blade for the USNS Mt. Whitney
Our Employees Are Our Greatest Asset!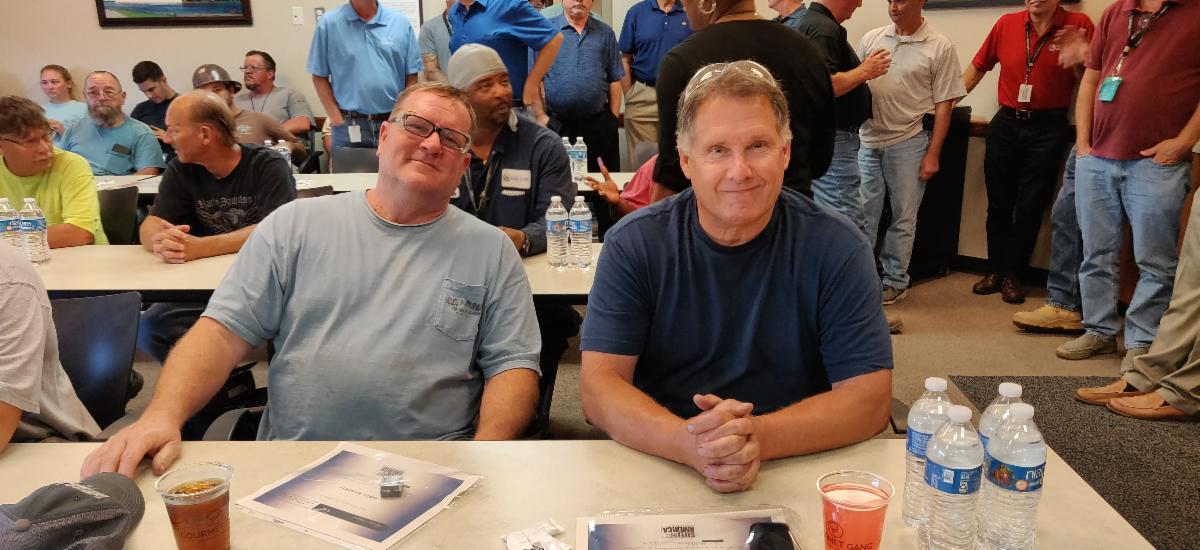 Colonna's Shipyard, Steel America and Down River quarterly celebration of their employees years of service. There were some celebrating their first year with the company while others celebrated FIFTY years!
Jr Furlough Celebrated 50 years of service!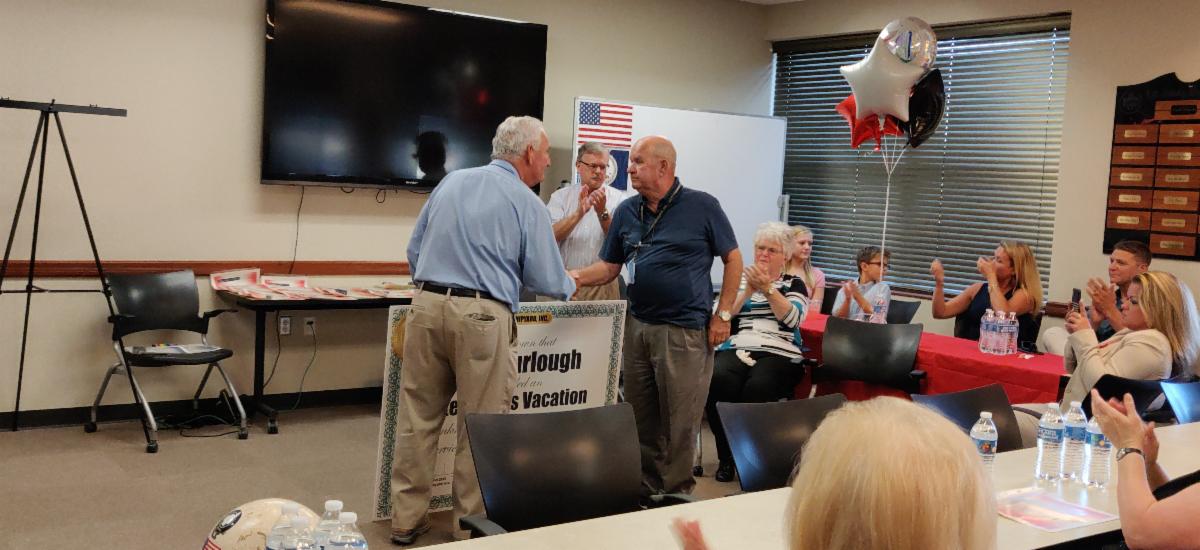 Steve Walker congratulating Jr Furlough on his 50 years of service.
Steel America's Service Award Recipients
One year of service: Ricardo Garcia, Brian Dupree
Five years of service: Robert Brooks, Donte Hargraves
Ten years of service: Victor Yeck, John Gillitzer
Twenty years of service: William Hull
Twenty five years of service: Nelson Britt
Fifty years of service: Jr. Furlough
HydroVision 2019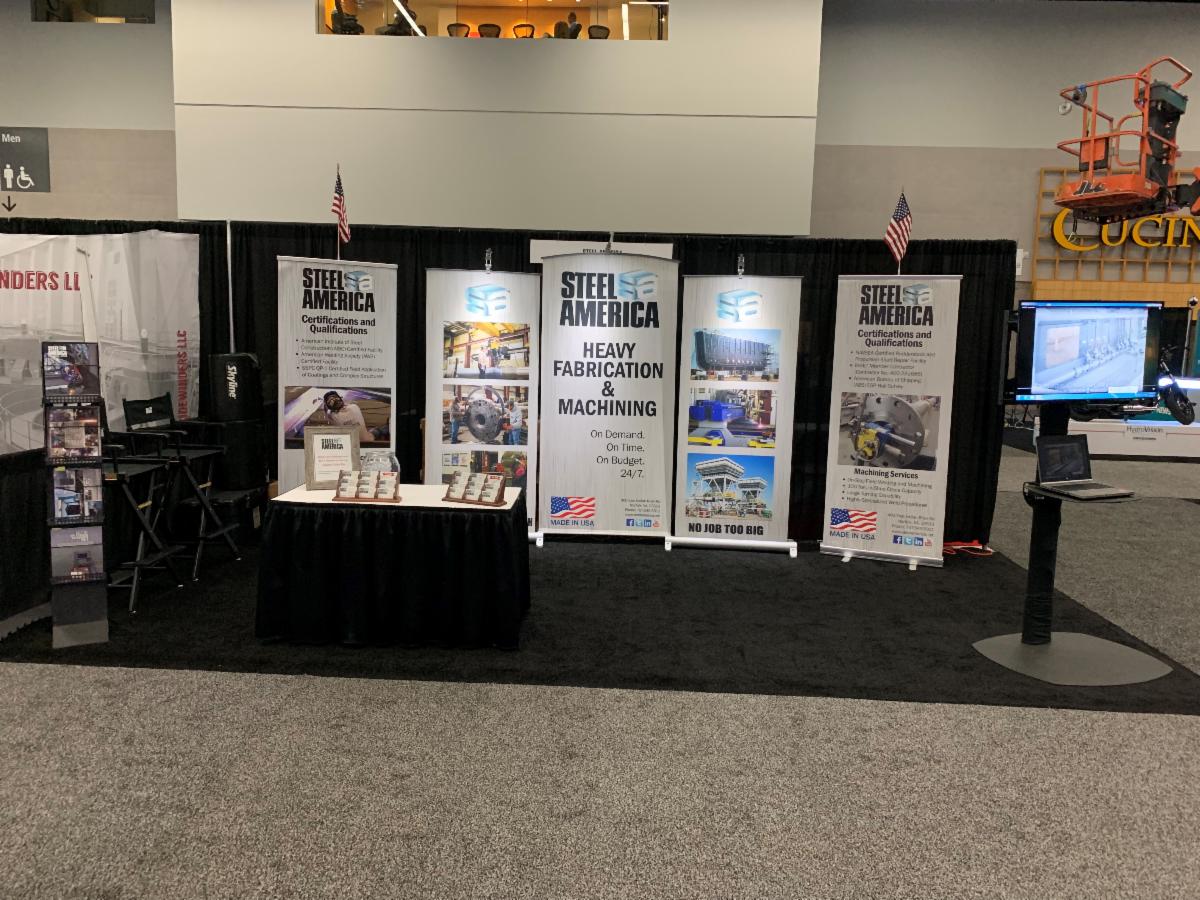 Steel America's HydroVision International 2019 booth. The show get's better each year!
Join our TEAM!
We are always looking for highly motivated and talented people to join our already amazing team. Apply today!
In Other News…
Barge Rentals
Are you in need of a barge for your upcoming project? Norfolk Barge, Co. has been a trusted source of deck barge rentals for over 100 years. Conveniently located near the port in Norfolk, VA, Norfolk Barge has classed and unclassed barges ranging in size from 24'x12'x3'6″ to 160'x54'x8′. For any questions or for more information, please contact Norfolk Barge at (757) 545-2414 x2450 or visit www.norfolkbarge.com.
On the Road…
PowerGen International 2019 is right around the corner (Nov.17-22) in New Orleans, LA.

PGI attracts more than 3,000 attendees representing over 300 companies from around the world. We always look forward to seeing all our customers,
partners, and vendors there. For complimentary exhibit hall passes, contact Angela Williams (757-545-5311 x3650 or awilliams@steelamerica.net).
If you are attending stop by booth 3601 and say Hello!