Steel America Buzz
Posted on July 10, 2019
Safety is Our #1 Priority:
June 26-27 marked the second gathering of the CSI Safety Leadership Team (SLT). Leadership of these meetings rotates through the group, and this meeting was led by team members Steve Gradine and Frank Wheatley. The meeting included Team review of safety culture improvement groundwork that has been laid since the beginning of the year and last touches on a 2019 Safety Action Plan that will help us engage you all in this safety movement in the near term.
What does that mean for Steel America and its customers?…
Steel America's continuously improving our safety culture! The Hile Group have been working with our management team over the last two years developing a new and exciting program that we kicked off this quart!
Our Safety Leadership Team talked about the importance of accurate First Aid reporting and planned for how to increase the number Near Miss Reports, which can be submitted by any of us. Hearing about smaller incidents, including the situations when we got lucky and no one was hurt, will allow us to learn from them without someone getting hurt. Please think seriously about this and take the time to teach us about what you're seeing out there: "See Something, Say Something, Do Something."
Our Employees Are Our Greatest Asset!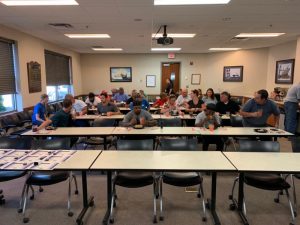 Colonna's Shipyard, Steel America and Down River quarterly celebration of their employees years of service. There were some celebrating their first year with the company while others celebrated thirty five years!
Ken Mebane Congratulating Bobby Fentres and Greg Eddins on 35 Years of Service!
(From left to right)
Bobby Fentres- Lead Mechanic Supervisor, Colonna's Shipyard.
Ken Mebane- Vice President, Steel America.
Greg Eddins- Director of On-Site Machining, Steel America
Steel America's Service Award Recipients
One year of service: Ben Aston, Chase Baker, Snow Curry, Jim Hansen, Keith Hughes and Angela Williams.
Three years of service: Patrick Shultz.
Five years of service: Charlie Henard, Mark Honaker, Fred Ploeger, Cody Roberts and Damian Taylor.
Ten years of service: David Nordine.
Twenty years of service: Larry Bezzo.
Thirty five years of service: Greg Eddins.

Employee Spotlight
Wade Lynn worked for Newport Shipbuilding for thirty two years in various roles from Supervisor to Operations Manager. The last five years he was the Plant Manager at Porter's Fabrication in Lynchburg, VA. Wade is no stranger to Steel America. He has teamed on projects with us in the past and really liked our leadership team as well as the overall team atmosphere. The most enjoyable part of the job for Wade is the sense of accomplishment from helping the company grow and growing the people around him. When he's not at work he and his wife enjoy spending time with grandchildren by the pool, camping and riding his Harley. We are happy to welcome Wade to our growing team!
Wade's Moto: "Life's short so try to make a difference!"
Shipping Out…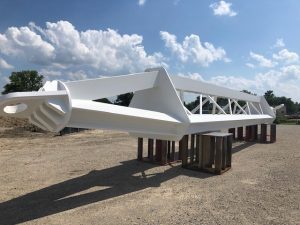 Our team completed fabrication, delivery and erection of the Portsmouth Pavilion Mast. This project weighs in at about 65 tons of steel.
In The Fabrication Shop…
Currently we are working on an Impulse Tank Fixture's for a local customer for the Columbia Class Submarine. This is a "build" fixture to help support our customer when they start the build of the Impulse Tank. The Impulse tank is located in the forward end of the submarine on the S1B module and is three times the size of the VCS (Virginia Class Submarine) counterpart.
In the Machine Shop…..
Top Roll Project
Steel pipe rolling mandrel; the top roll of the Plate Rolling Machine used for making large diameter "Offshore" pipe used in the Offshore Oil industry.
The piece came in to the shop over 25″ in diameter and 70′ long weighing 53 Tons.
Customer wanted us to reduce the diameter to 18 3/8″ with a slightly different design for a smaller diameter pipe.
This reduction in diameter reduce the weight by 20 Tons!
75% of the way through completion of the reduction, we discovered deep cracks in the diameter. The scope of work was then changed, the customer requested that we excavate and weld repair the cracks.
During the excavation of cracks, the roll actually broke in two halves. The deepest of the cracks we found traveled to the center of the part.
The customer then requested that we prep, weld the halves together, stress relief, and finish machine the roll back together.
To schedule a tour of our facility please send an email to awilliams@steelamerica.net or call 757-545-5311 x365.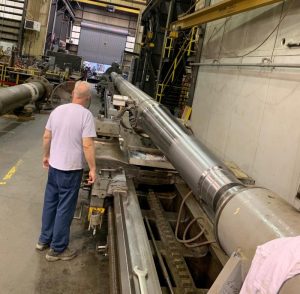 Join our TEAM!
Steel America's looking for a Fabrication Shop Resource Manager to add to our growing company. This position requires previous fabrication experience & CAD/Detailing is preferred. For more information click here.
In Other News…
Barge Rentals
Are you in need of a barge for your upcoming project? Norfolk Barge, Co. has been a trusted source of deck barge rentals for over 100 years. Conveniently located near the port in Norfolk, VA, Norfolk Barge has classed and unclassed barges ranging in size from 24'x12'x3'6″ to 160'x54'x8′. For any questions or for more information, please contact Norfolk Barge at (757) 545-2414 x245 or visit www.norfolkbarge.com.
On the Road…
HydroVision International 2019 is right around the corner (Jul. 22-26)
HVI attracts more than 3,000 attendees representing over 300 companies from around the world. We always look forward to seeing all our customers,
partners, and vendors there. For complimentary exhibit hall passes, contact Angela Williams (757-545-5311 x365 or awilliams@steelamerica.net).
If you are attending stop by booth 3092 and say Hello!
Also, don't forget to come see us at Power-Gen International 2019 in New Orleans, LA. (Nov. 17-22.)