Here we GROW again!
Posted on April 23, 2019
Steel America's laying the foundation for our new 110,000 pound balancing machine.
What does that mean for Steel America and its customers?…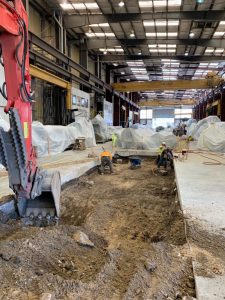 W.F Magann laid the foundation for our new Schenck Model HM70B 110,000 pound capacity, belt-driven balancing machine with underslung belt drive and 75 horsepower drive system. Their team dug the 50'x12′ platform, laid the rebar and poured 60 cubic yards of concrete in preparation of this machine's delivery.
The Schenck Model HM70B with CAB 920 instrumentation features permanent calibration for all sizes and configurations of rotors that can be placed in the HM70B balancing machine. The CAB 920 Instrumentation can be set up to measure dynamic unbalance, couple/static unbalance, static/couple unbalance, and static unbalance.
Featuring automatic sensitivity selection, the CAB 920 will select the proper internal sensitivity level so the instrumentation will always display the correct amount of unbalance, with proper decimal position, for any unbalance magnitude without the operator entering any additional file parameters. This is true regardless if the values are large initial unbalances, or ultra-precise, low-level, tolerance values.
The addition of this equipment not only allows for the balancing of our own jobs but opens the door for Steel America to provide another service to other companies.
Employee Spotlight
Dan Scott retired from Newport News Shipbuilding as a welding general foreman and spent some time fishing, shooting and wood working before deciding it was time to come out of retirement. His passion and connections in the industry led him to Steel America where he exercises his life motto of "Be kind!" and we are happy to have him on the team!
George Davidson comes to us from Newport News Shipbuilding where he was a construction supervisor. He was ready for change and new opportunity to work on versatile projects and sees so much potential for Steel America moving forward, making the switch was a no brainer. When he is not working he is spending time with his 4 year old son making lasting memories and instilling his moto of "Integrity and loyalty" in him. Welcome George, we are excited to add you to our growing organization!
Shipping Out…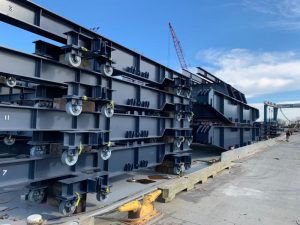 Our team completed fabrication and barged three large projects at the beginning of the year, Caisson #3 delivered to Kittery, ME. A Ship-lift delivered to Miami, FL. And a Ship-lift delivered to Savannah, GA. In total we have barged 2,700 tons of fabricated steel this year.
Final Lashing of a Shiplift that was barged to Miami, FL.
In The Shop…
Our team of skilled tradesmen and women are finishing the fabrication of a Pavilion Mast. The final assemblies are being trucked for on-site erecting. The completed project weighs in at about 107 tons with a height of 139′ and a width (at the widest part) of 6′. This project was made up of nine assemblies total and five different assembly pattern's that were cut on our C & C plasma burning machine with some piece cut from 4″ thick plate.
New Additions in the Machine Shop…..
Steel America is constantly looking at ways to grow and further our knowledge and capabilities to ensure we are providing the best possible service to our customers. Over the last month we added some new pieces of equipment to our Machine Shop to ensure that we have the capability to meet customer demands while ensuring quality, maintaining our customers budget and meeting their timelines. Those pieces of equipment include a new Schenk balancing machine, a new CNC Mill, CNC Lathe and a Horizontal Boring Machine. All four of these pieces of equipment will help increase the capability and productivity of our shops.
To schedule a tour of our facility please send an email to awilliams@steelamerica.net or call 757-545-5311 x365.